HRC 100 Series T-headed bars
// types and dimensions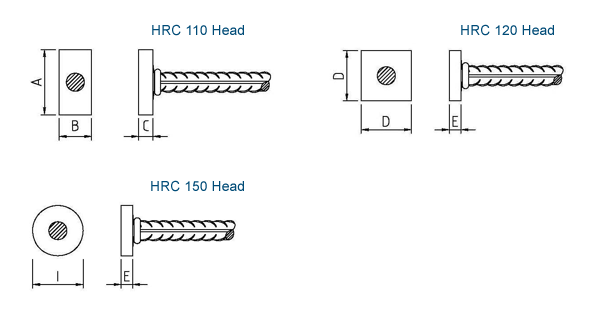 Bar designation
T-Head Dimensions
A
B
C
D
E120
E150
I
mm
mm
mm
mm
mm
mm
mm
20M
80
40
18
60
14
16
65
25M
100
50
20
70
16
20
80
30M
110
70
25
90
20
25
100
35M
110
90
25
110
25
-
-

Double headed bars: Please note that the heads might be rotated to each other (with rebar as rotation axis). If the position of the heads is important, select one or two circular T-heads (HRC 150) to control the positions of both heads.
All products are designed to exceed the actual stress and strain capacity of the rebar.
Head dimensions for HRC 100 series fulfil the definition for Headed bars according to CAN/CSA-A23.3, clause 7.1.4
Can be combined with 180° hook or other HRC products:

Series HRC 100 is available in lengths 200–15,000 mm. Larger product lengths are possible by splicing with HRC 400 Series rebar couplers.