The HRC Group
Canada
Headed Reinforcement Canada was established in 1992. to set-up a production unit in Newfoundland, Canada. HRC Canada has supplied to several Canadian projects; Hibernia GBS, Prince Edward Island Bridge, Hebron GBS, West White Rose Project, etc..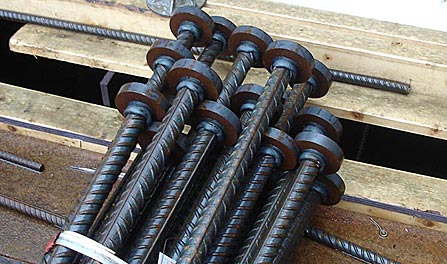 Europe
HRC Europe has more than 40 years of experience supplying high capacity reinforcement products like T-headed bars, mechanical couplers, and threaded components to demanding projects for the infrastructure, like bridges, airports, power stations, hydro-electric dams, nuclear storage facilities and Concrete Base structures for the oil and gas industry. HRC Europe was established in 1979 in Norway (previously named Metalock Industrier AS).
HRC also offer a "Plug & Produce" production system, which is a complete production lines with HRC machinery, production systems, quality documentation, machine service, training of client's local workforce and supervision.
USA
Headed Reinforcement Corp. was established in 1990 in response to the special demands for high quality reinforcement in the seismic region of California.
Headed Reinforcement Corp delivers a wide range of products for construction and retrofit of bridges, parking structures, houses and other concrete structures to the entire American market.
CALTRANS Department of Transportation, State of California has pre-qualified a wide range of HRC's products for use in seismic regions. These products being mainly T-Headed bars and rebar splices/couplers.
General Information HRC Group Machinery
The HRC group is the largest owner of specialized friction welding machinery for production of reinforcement products in the world. This machinery is stored at different sites in several countries and can be set-up at customer's production site upon request.
Mobile production units
HRC's unique production method is the friction welding method. This method is a known method in everything from the car to space industry. HRCs production machinery has been developed, designed and built by HRC especially for production of reinforcement products.
The HRC production method secures full traceability of the products, and comes with an electronic monitor of surveying and storing each weld. This is an automatic quality assurance process that is part of a computer based ISO 9002 quality system of the production. This system has been developed to fulfil the strictest quality assurance requirements for offshore projects.
The machinery comes with a technology package for training of local staff.